The most interesting news at #SDCC19 was perhaps the announcement of Natalie Portman wielding the Mjolnir. Announced whimsically by Kevin Feige at Hall H and portrayed equally playfully by director Taika Watiti, the gesture had everyone in the hall swooning over.
"Will you be my Mighty Thor?" 
The fans went bonkers over the announcement! However, not everyone thinks the same way. MCU has received some backlash regarding the casting of a female Thor. While some fans criticized it, others pointed out the hypocrisy and the anti-feminist title to which Taika Waititi was quick to respond.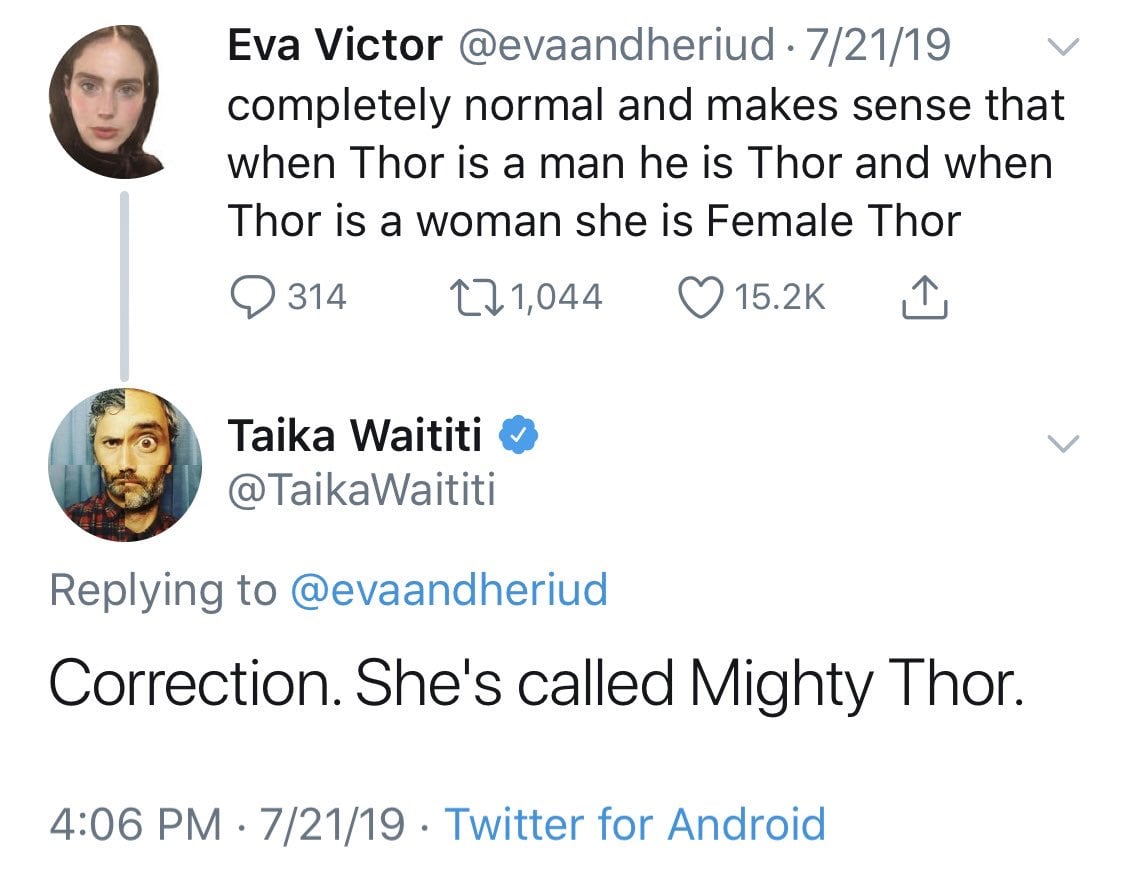 The upcoming MCU movie, Thor: Love and Thunder is actually based on the 8 issue comic storyline by Jason Aaron called The Mighty Thor. More on that below…
Natalie Portman's return to The Marvel Cinematic Universe with a Thunder!
Natalie Portman has been one of my most favorite actors in Hollywood ever since the day I saw Léon: The Professional when I was 8 or 9.  Her choice of films has always raised the bar that is what I believe, whether you pick up Black Swan, V for Vendetta or The Knight of Cups. Before she was announced to be taking over the mantle of Thor from Chris Hemsworth at the San Diego Comic-Con 2019 I was under the impression that she was never going to do another one of these movies ever again. Apparently, Natalie Portman was upset with the director of Thor: The Dark World because the movie was initially going to be made by Petty Jenkins. Then Marvel "parted their ways amicably" with Jenkins. After when Natalie Portman went on a public spree as to how Marvel behind the scenes was dealing with female filmmakers, she was forced to stay with the movie because of contractual obligations. Petty Jenkins then went to direct the first female superhero in the DCEU; Wonder Woman and the rest is history.
In the comics, Nick Fury whispered something to Thor Odinson when the "Original Sin" arc ended. This deemed him unworthy of wielding Mjolnir. The hammer was on the moon, as it had been abandoned after Thor tried several times to carry it once more. Following that All-mother Freya gazed upon it and said: "there must always be a Thor". Then Jane Foster who was in her latter stages of breast cancer ended up on the moon and wielded Mjolnir, therefore, transforming into Thor. Jane Foster was now the Thor whereas actual Thor was now just "Odinson".
In 2015 when Jason Aaron's run on Jane Foster was on the shelves a lot of fans were very unhappy and dissed the notion of other people picking up Mjolnir or getting Thor's power and costume. But this arc which Jason Aaron presented was focused heavily on difficult and unusual topics for comics (Jane Foster suffering from breast cancer is one of them).
Initially, as the 8 issue story arc started Jason made the new identity of this "new Thor" a well-kept secret. As the story preceded over the weeks it got interesting. Aaron has over the time actually gotten better at Thor, according to some readers whom I discussed this with, this story was the heart of the comic.
The villain Gorr the God Butcher who was formerly lowly peasant who had become so angry at "Gods" that he had decided to dedicate his life at finishing them all over the universe. Gorr the God's battle fight with Thor was quite epic requiring a team-up of more than just one Thor time-traveling from along his life span in order to end the fight.  Gorr the God's point was if one thinks quite deep and thoughtful.
What is the point of God? Why should one worship Gods?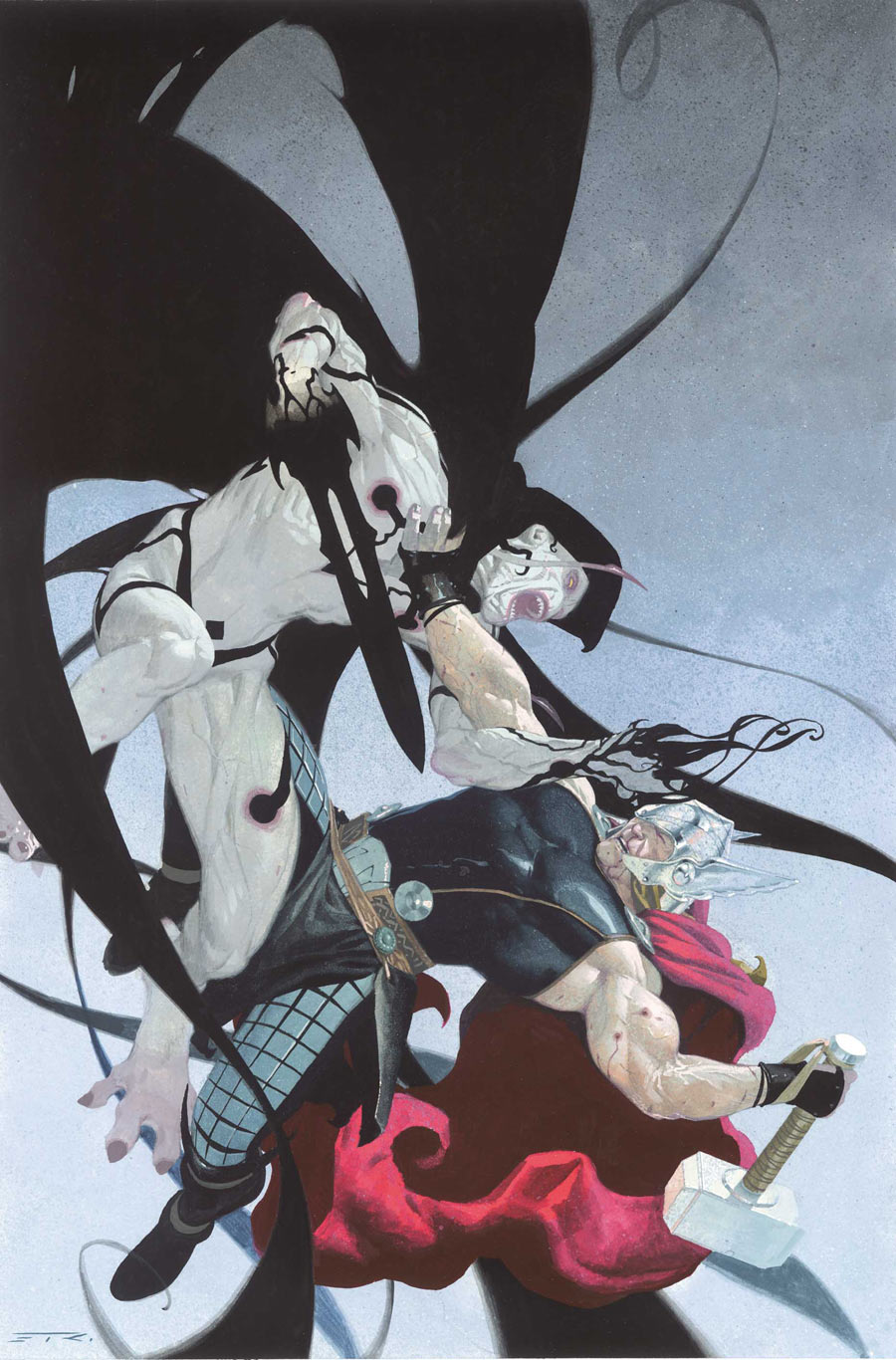 And this all had gotten to Thor's head which is why he stopped believing in himself and he became unworthy of lifting Mjolnir. And Thor cast himself into self-exile. This was the point when Jane Foster found out that she could lift Thor's hammer; Mjolnir and was therefore granted the powers of Thor. Over the 8 issues, Jason Aaron slowly explained everything. The idea of a woman having stolen and wielding Mjolnir and having Thor's powers and costumes didn't go down well with Odin and all the other so-called "Gods". Therefore Jane Foster took a mask for herself in order to hide her identity because she did not want to be discovered. She never either went around giving herself any names like "Goddess of Thunder". Every time she would wield Mjolnir and transform even though she was already suffering from cancer at that time and was undergoing chemotherapy, the chemo radiations would burst out or expunge from her body.
Back then a lot of people were not happy with Jane Foster becoming Thor and a very close to a similar situation is going around these days since Portman has been announced for taking over The God of Thunder's Mantle. According to some fans, Natalie Portman should stay away from blockbusters because she is an excellent actress in character-driven smaller budget movies. She has already looked out a place and her acting has been quite wooden in movies like Thor and Star Wars while others say that Disney and Marvel are definitely putting left and liberal ideas in their movies hence Black Panther, Captain Marvel and now Jane Foster have become Thor.
As in past The Marvel Studios president Kevin Feige has received a handful of backlash for the lack of representation in their movies. Therefore it is natural for one to assume that their latest movies some of which have already released ( Black Panther, Thor: Ragnarok, Ant-Man and The Wasp and Captain Marvel) and some which have recently been announced ( Thor Love and Thunder, Shang-Chi and Black Widow) are a response to the backlash. This backlash wasn't just from the fans over the social media but also a lot of renowned celebrities have also called Marvel Studios for being racist against South Asian actors. May be in response to that was a Shang-Chi movie planned and announced at San Diego Comic-Con 2019 with an all Chinese cast. Or maybe it was because of the lack of having knowledge of the fact that why equal representation is both important and harmless that Marvel Studios decided to go down this path after whitewashing The Ancient One in Doctor Strange; originally a Tibetan male character, something similar of which happened to Mandarin in Iron Man 3 who was a character of Chinese descent.
No doubt the efforts to paint over the past mistakes are coming too late from Marvel or maybe it is also because of ever-changing political climate all the world.
One thing is for sure that Kevin Feige and the team's efforts to make MCU exclusive and historic aren't going to leave any stone unturned even in the coming era of Phase 4, Phase 5 and beyond.
Anish Sahni
Anish is a writer, director, blogger and editor based in New Delhi. In 2018, Anish launched a small film, video, and podcast channel company named Bonsai TV on YouTube. He is known for his uncompromising devotion to quality and is firmly committed to the development and progression of a loyal film and comic books culture in India. From time to time, Anish guest blogs on The Comic Book Store. A massive supporter and campaigner of #ReleaseTheSnyderCut in India for the past 2 years, he vows to not stop unless his demands are met! You can follow him on Instagram.